I'm going to start this rant by saying something that people need to acknowledge, but seem instinctively unwilling to do: Pepperoni pizza is not that good. I mean, yeah, it's good, but it's not THAT good. Seriously, it's not. If you think it is, it's time to get over it, and get over yourself. Wake your boring ass taste buds up, there are many delicious pizza options out there, and the pizza world doesn't revolve around pepperoni.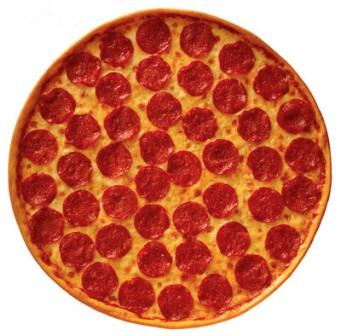 If pizza is high quality, a mere slice of cheese is delicious. If pizza is mediocre, I understand the need to add toppings. But I have news for you pepperoni: you ain't all that and a bag of chips. Pepperoni, while ok, is simply NOT good enough to have earned it's place as the default pizza order of choice on merit alone. Hell no. I believe it has earned that place through process of elimination, unadventurous American taste buds and dumb luck. It's cheap, it's meaty, it's salty, and it adds additional flavor to an otherwise bland pizza. But you know what? So does sausage. But sausage just doesn't look good in photos like pepperoni does, so pizza places don't advertise the shit out of it.
Seriously, at what point did we decide that when a group of people are ordering pizza, that pepperoni, along with cheese, is the default choice for the group? The answer: a long ass time ago. When I was a kid and you had a pizza party, you ordered cheese and pepperoni. No other options were considered. No one ever thought to question the conventional wisdom by saying, "hey, how about a veggie pizza?" or "wouldn't sausage be better than pepperoni?" or dare I even suggest it, but, "how about a pineapple or Hawaiian pizza?'
When you are ordering pizza with a group of 8 people, and someone says, "ok, lets get two cheese and two pepperoni", do you say to yourself, "perfect! Just what I wanted"? Or do you secretly think "well I don't want to mess up the order, but if I had my choice I would prefer X, Y or Z instead"? Well guess what? You aren't 12 anymore. You are allowed to eat pizza besides pepperoni, even advocate for the ordering of a pizza besides pepperoni.
Here's the dirty little secret of pizza ordering: while you are thinking that you would prefer something besides cheese or pepperoni, so are at least 50% of the other people in the group. But frequently, no one says anything because no one wants to rock the boat or be seen as "difficult." This probably stems from a time (our childhood, the 70′s, 80′s, 90′s etc) when there were fewer vegetarians out there, almost no vegans, and fewer interesting topping choices to choose from.
So I am here to declare: if I could have my way, the era of pepperoni pizza would be over. OVER. With your help we can knock pepperoni pizza from its undeserved throne as the go-to pizza option after cheese. Yes, with your willingness to speak out, and a little elbow grease, we can end the tyranny of pepperoni pizza and return it to its rightful place: off the "default pizza" pedestal and back onto the list of general topping choices with everyone else, which frankly, is where it belongs. Pepperoni pizza is not special, it is not above criticism and it is not deserving of protected status.