Over the weekend, President-Elect Barack Obama dropped in to DC-institution, Ben's Chili Bowl to grab a bite to eat with DC Mayor Adrian Fenty. For those of you who know DC food, you know that this is a BIG deal.

AP Photo/Gerald Herbert via DCist.
Ben's Chili Bowl is famous for their half-smoke, which is served "All-the-way" with chili, mustard and Onions. (Don't know what a half-smoke is? See Serious Eats description or check the half-smoke Wikipedia page).  As I wrote back in March, the Ben's half-smoke is also the signature food item at the new Nationals Park.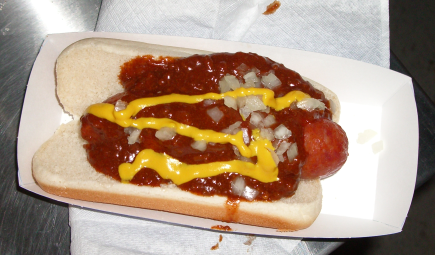 The occasion is being praised by the National Hot Dog & Sausage Council who released a press release hilariously titled, "President-Elect Obama's Historic Trip to Famous DC Hot Dog Restaurant Reflects Excellent and All-American Taste in Cuisine."
Ben's Chili Bowl previously had a sign that for years read: "Who Eats for Free at Ben's: Bill Cosby. No One Else." However, in December, Ben's updated this list to include the Obama family.  Bill Cosby made an appearance on Meet the Press this weekend, discussed Obama's trip to Ben's Chili Bowl and expressed concern that Obama apparently didn't know what a half-smoke was.
The AP has footage of Obama's trip to the famous DC eatery: